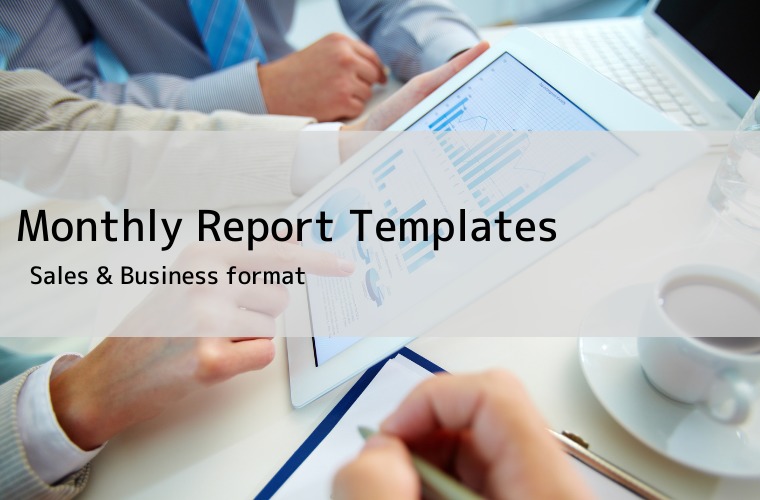 Here is a free downloadable Monthly Report Templates for MS-Excel.
The layout of the monthly report will vary slightly, as the purpose of the monthly report is slightly different from the one used for general business, for sales, and for recording sales and sales.
We've prepared several generic patterns for each, so you can modify them to make them easier to use for your own business.
Monthly Report Templates
Free downloadable excel monthly report template. Click on the image to view a larger image.You can download it by clicking the "Download" button at the bottom of the download page.
Monthly Business Report
Monthly Sales Report
This is a monthly report template for sales to be used in the store. You can tally up sales, costs, profits, etc.
How to write a monthly report
The key to writing a monthly report to the company is to accurately communicate results and achievements against goals using numerical values, and to be thorough in writing information that should be shared, such as issues and reports for the month.
In this case, a good way to write a monthly report is to separate the results and achievements, which are facts, from your own opinions.
Cautions for writing monthly reports
1. Be specific in writing your results and other figures
2. include as many numbers as possible when writing goals and reflections.
3. Proactively write down what's bothering you and what can be improved in your work
4. Write concisely what you want to say rather than long, drawn-out sentences.
5. always looking for ways to do it efficiently and suggesting ways to do it is more likely to be accepted.
.
Format of Monthly Report
The items that should be included in your monthly report will vary depending on your industry.
If you are in sales, the first thing you should do is fill in your goals and accomplishments for the month, this month's goals, next month's goals, and any issues or reflections you may have.

If you are in an office role, fill in this month's work and next month's plans, issues and reports. If you can see the number of responses, such as call center or sales clerks, you may also report the target number and results in numbers.
The format of the monthly report will vary depending on the goals of the company. If the company does not have a prescribed format, you should consult with your supervisor to create the most appropriate monthly report using a template.