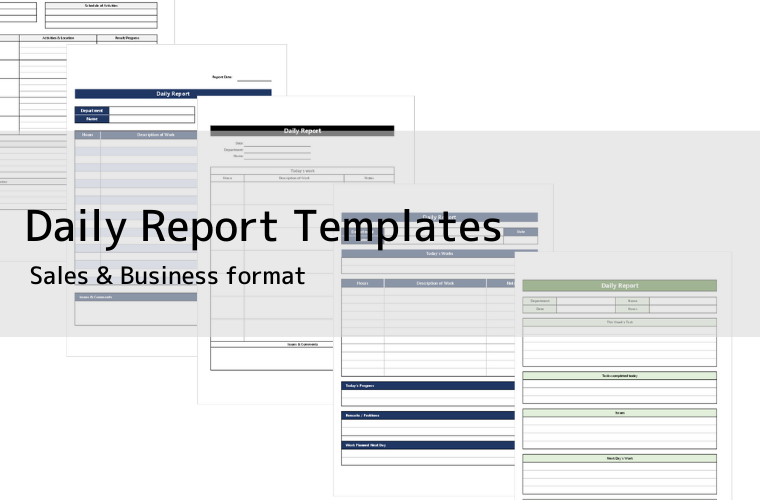 Many people think of the daily report as a tedious task to report to their bosses, but writing it down without much thought will not improve your reputation.By looking back on your daily report, you can use it as a record of your work later on to help you improve and increase your work efficiency.
It is also important to share the progress of your work with your boss and team members to facilitate projects.
However, it's also tedious to make a daily work report or daily work report from scratch, isn't it? In this article, we will introduce specific ways to write daily reports and Business Daily Report Templates that can be used immediately. We hope you will make use of it.
Daily Report Templates
Daily Sales Report Templates
What is a daily report
A daily report is a written record and report of the day's work. Normally, it is sufficient to specifically describe the content of the work, but there are also cases where problems, issues, and communications are recorded.
Especially in workplaces where you may not be able to communicate closely with your supervisor or team members, a daily work report is even more important because you may use it to manage the progress of your work and problems.
Since you may look back at the daily work report by yourself, it is a good idea to be conscious of quantitative numbers as much as possible, such as writing specific progress.
How to write a daily report
The purpose of the daily report is to record what you did in a day and report to your boss and team members. When you think about having someone read it, or reread it yourself afterwards
It is important that you do this.
Daily business report in a fixed format.
Briefly report your work
.
In terms of formatting, before you start writing your daily business report, create a template in Excel or Word, copy it and fill in the necessary parts, so it will be easier for people to see it in the same format. And it's also important to write a concise description of your business. If you write long sentences, it's hard for the reader to understand what you are trying to say. You can write a clear daily work report by keeping the points in bullet points.
Format of Day Report
There is no fixed format for the daily work report, so you can set up your own items as you see fit. If your company has a specific format, you should use it, but if there is no specific format, you can generally write about tasks, results, issues, etc.
Task
Briefly describe the work you will be doing today. If you have more than one, please list multiple tasks.
Progress and results
Write about the progress and results of the work you did today. It's a good way to report on your work if you use specific numbers rather than a sensory approach.
Challenges and Areas for Improvement
If there were problems that occurred during the work, what was pointed out to you by the customer, and how to improve it, we will note them at the same time.
Work for tomorrow
If you know what you are going to do tomorrow, you can include it in this column. It is important to be concise and specific here as well.
How to write a daily report efficiently
I think many people who write a daily report write it all at once at the end of a day's work while remembering what they have to do. However, if they try to write it after the work is done, they may have trouble remembering the first part of the work, or they may end up wondering what they should write about.
In order to write a daily report efficiently, we should be aware of daily reports from the beginning of the day and write a daily report for each task at frequent intervals.
If you are conscious of writing a daily report from the beginning, such as the progress of the materials created in the work, where the points are and where the issues are, and points for reflection, if you write your daily report frequently, you will not have to groan and write it before leaving the office.
Summary
Since it is difficult to write a daily business report, it is easy to end up with an appropriate content when you get used to it.However, by carefully writing the daily report, you can look back on past work content and share information with your team members, so writing the daily report carefully as much as possible will relate to your later business efficiency.
Once you get the knack of writing the daily business report, you can write it in a short period of time, so please make use of the template and create it efficiently.